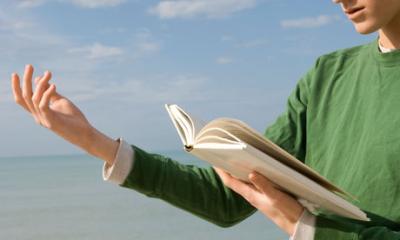 In the first chapter of his book Reflections on the Psalms, Lewis introduces us to poetic parallelism because it is so frequently used in the Psalms.  As he does so, he writes a sentence in the sixth paragraph containing a few profound ideas about poetry in general.
One of these ideas is that God is the Author of poetry as we find it in human culture.  Whatever poetry is, God is the Originator of it.  As the Originator, he has made a provision for poetry to operate in a particular way that makes it a benefit for all.
God is, of course, the Author of this poetic resource in our human makeup because poetry is a creative expression of his image, breathed into us at our creation.  The logical conclusion of this fact is that we should say God himself is poetic.  Poetry is a creative expression of his own being.
Now, if God is poetic, that has some huge implications for our lives as Christians.  What should our worship look like?  What should our service look like?  What should our lives look like?
Obviously, we think of the use of our words.  What kinds of stories and images do they portray?  Do they foster the true, the good, and the beautiful in our world?  Do they assume a fundamental order in our world that is recognized as "the beautiful?"  Do we give thought to what we say, write, and sing?
Not everyone has a lot of talent in the area of the artistic use of words, but being created in God's poetic image, shouldn't we all care about such things?  Should we not want to foster such things and include them in our lives?
What does the idea of God being poetic mean to you?  Do you even agree with that?  How do you see it applying to your life and our lives as believers in general?  Any other thoughts?  Please enter your comments below and lets see what we can learn from each other about this. Feel free to share this post